FALL 2017 DEXTER CHUNG DXCUS DISCUS SHIPMENT​
I am pleased to announce I have imported a large number of high end discus from Dexter Chung of DXcus. If the name sounds familiar there maybe a couple of reasons why. Dexter's discus have won numerous awards including Grand Champion and multiple Best Of Class placements. He has been able to accomplish this by starting with discus from champion bloodlines such as Goh Eng Khoon, Tony Tan, Ricky Lim and Wayne Ng to name a few. From there he has selectively bred and outcrossed where needed to further improve the shape, pattern and colour of the fish. Round shape, fabulous eye to body ratios, well formed fins and gill plates are the cornerstone of Dexter's discus. When viewing his fish it is clear that the focus is on producing quality discus rather than mass production. Fans of wild discus will also appreciate the work that Dexter has done to blend wild genetics into domestic strains including the amazing third filial generation Heckel x Amana Red Spotted Greens that will be arriving in this shipment. It is truly a pleasure to make these discus available to hobbyists all across Canada.
Ordering Discus: Orders can be place directly on my website Canadian Aqua Farm or made by e-mail

[email protected]

Viewings can be arranged by appointment.

Payment: Forms of payment accepted are Visa, MasterCard, and Paypal.

New Customers: New customers and those ordering fish by mail order for the first time are always welcome! Shipping discus all over Canada is a full time job for me. I will be happy to guide you through the process to make sure that we select a convenient arrival time for you and that everything goes smoothly. For a list of testimonials please click here.

Shipping: Shipping across Canada is available year round by Westjet and Air Canada cargo. Very economical delivery options such as Greyhound, Helicopter and Float Plane are available to many BC communities. I am very experienced in making sure your fish arrive promptly and in prime condition. The shipping charge for Westjet and Air Canada shipments is $95 and there is no limit to the number of fish that can be sent in a shipment. If multiple boxes are required I will pay the additional shipping charges. Live delivery is guaranteed on all shipments.

Shipping locations:
British Columbia: Castlegar, Cranbrook, Fort St. John, Kamloops, Kelowna, Penticton, Prince George, Prince Rupert, Sandspit, Smithers and Terrace, Port Hardy.
Alberta: Calgary, Edmonton, Fort McMurray, Grand Prairie, Lethbridge and Medicine Hat.
Saskatchewan: Regina, Saskatoon
Manitoba: Winnipeg
Ontario: Toronto, Ottawa, Kingston, North Bay, Sarnia, Sault Ste. Marie, Sudbury, Thunder Bay, Timmins and Windsor.
Quebec: Montreal, Baie Comeau, Gaspe, Iles de la Medeleine, Mont Joli/Rimouski, Quebec City, Rouyn-Noranda, Saguenay/Bagotville, Sept-Iles and Val D'Or.
New Brunswick: Bathurst, Fredericton and Saint John.
Nova Scotia and Prince Edward Island: Halifax, Sydney and Charlottetown.
Newfoundland: Deer Lake, Gander, St. John's, Wabush and Goose Bay.
North West Territories: Yellowknife

*BC coastal communities via float plane at a cost of $40 per shipment: Victoria, Nanaimo, Comox, Sunshine Coast, Salt Spring Island, Maple Bay and South Pender

*BC interior communities via Greyhound at a cost of $40 per shipment: year round to Kamloops, Penticton, Kelowna, Salmon Arm and surrounding areas. From late spring to early fall shipping to as far as Prince George, Revelstoke, Banff and Pincher Creek may be available (weather dependant).

If you don't see your location listed above please contact me for further details.

Price list (all prices in Canadian dollars):

6.5"-7.25" Giant Leopard (Golden Intermediate) $350
6.5"+/- Giant Leopard Snakeskin (Golden Intermediate) $395
6.5" Giant Fire Ruby Leopard $295
6.25"-6.75" Albino Leopard Snakeskin (Select Grade) $425
6"-7" Giant Blue Altum Snakeskin $280
6"-6.5" San Merah (Red Golden Intermediate) $215
5.5"-6" Heckel x Amana Red Spotted Green F3 (by strain creator Dexter Chung) $285
5.5"+/- Super Eruption $225
5.5"+/- Fire Ruby Leopard $165
5.5"+/- Albino Leopard Snakeskin (Select Grade) $395
5.5"-6" Red Map Tiger Checkerboard Pigeon $190
5"-5.75" Golden Eruption Leopard $295
5"-5.5" Albino Leopard Snakeskin $295
5"-5.5" Golden Checkerboard Pigeon $165
5" Royal Blue Titan Snakeskin $195
5" High Body Fire Ruby Leopard $195
4.5"-5.5" High Body Snakeskin $165
4.5"-5" 3R Royal Ruby Red (Very Clean) $175
4"-4.5" Fire Ruby Ring Leopard (Goh Eng Khoon Bloodline) $135
3.5"-4" High Body Snakeskin $135
3"-3.5" Galaxy Checkerboard Turquoise $75

Video of the discus:

Australian Freeze Dried Black Worms
​
This high protein (66%!) food is what I feed my discus and highly recommend to my friends and customers. I have tried many different foods and this beats everything else. It is available in the following six formulations:

Cubed Original -pure black worm goodness!

Cubed with Baby Spinach -great way to work some greens into your discus' diet

Cubed CAF Colour Enhancing -Available exclusively from Canadian Aqua Farm the spirulina and natural astaxanthin powder in this formula will bring out the best colours in your fish

Cubed Bio-plus - available by request. This formulation contains spinach, spirulina and carophyll pink, a powerful red/orange enhancer

Loose Original -can be chopped up for small fish or rehydrated for bottom feeders

Loose with Baby Spinach -all the benefits of loose original with some extra greens for your fish

Freeze Dried Brine Shrimp Cubes Place a piece of freeze dried brine shrimp into your aquarium and watch as the brine shrimp rehydrate almost instantly. Tropical fish of all types including discus love this food and it provides excellent roughage. A little goes a long way. If you normally feed 1 cube of freeze dried black worms at feeding time then I would recommend using 1/2 a cube of freeze dried brine shrimp.

Price list for Freeze Dried Black Worms:

Original (loose or cubes)
50 grams = $25
100 grams = $42
200 grams = $73
1kg = $325

Spinach & CAF Colour Enhancing (loose or cubes)
50 grams = $28
100 grams = $45
200 grams = $75
1kg = $340

Bio Pigment Plus (cubes)
50 grams = $30
100 grams = $48
200 grams = $80
1kg = $360


Price list for Freeze Dried Brine Shrimp:
100 grams = $35
200 grams = $65

Free shipping is available on this food when you order through my website canadianaquafarm.com.

Cubed Black Worm:



Loose Black Worms: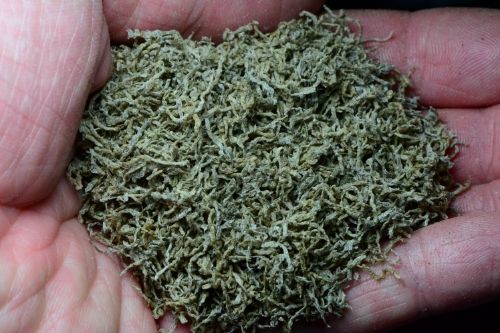 Brine Shrimp Cubes:



Discus are notorious for being picky eaters but they take instantly to this food. The photos and video below show some of my discus pigging out on the Black Worms.
[video=youtube;_0eX1ZLaK7o]https://www.youtube.com/watch?v=_0eX1ZLaK7o[/video]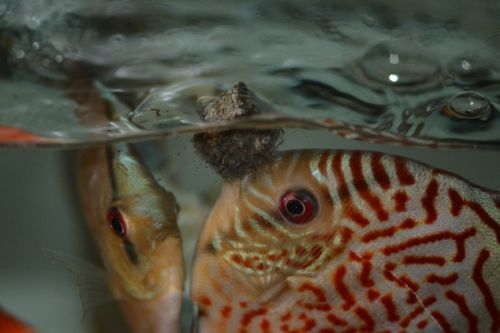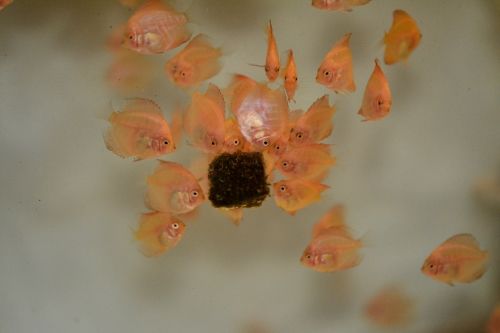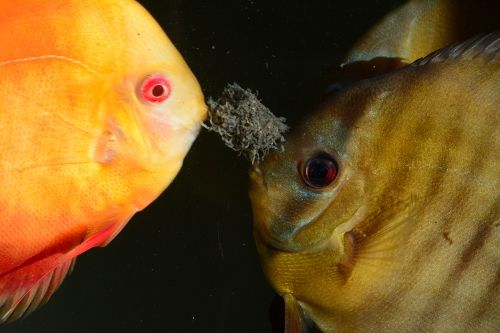 ——————————————————————————————————————————

If you are not already following me on social media please consider doing so. It is by far the best place to keep in touch and up to date on the most recent happenings in my fish room.

On Facebook I regularly post photos, videos and relevant links: click here and like my Facebook page now

I'm most active on Instagram, posting photos and videos on an almost daily basis: https://instagram.com/canadianaquafarm/

On YouTube you will find full length HD videos showing my current discus stock posted on a monthly basis: Click here to subscribe to my YouTube channel.