Hello everyone. I don't post much here. Mostly lurk around. Thought I'd share my 450 gallon with everyone. This tank has seen a few changes this past few yrs. Anyhow looking forward with learning and sharing experiences and knowledge with everyone here.
Tank is a 450 gallon all glass tank. 8' x 3' x 2.5'.
Stock is
Bbxb Gold Asian Aro
Male and Female Marble Motoro stingrays
Ornate/Weeksii/Endlicheri Bichirs
Indonesian Datnoid
Satanoperca Daemon
5 x Rotkeil Severum
2 x Super Red Severum
2 x Turquoise Severum
5 x 7-8" Clown Loaches
Also have a spotted Gar that is going in here soon. It's currently growing out in my other tank.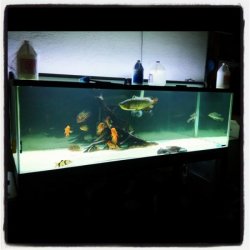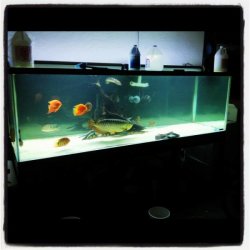 Thanks for viewing.
Andy